New Game Shout
Type any game
No Game Selected
Type your shout above. Afterwards, enter the game you wish to shout about to the left. By selecting a game you're more likely to get a response to what you need. You can choose not to enter a specific game if you'd like.

ex. I'm stuck in a room with a box and a gnome. How do I get out?


KINGXANADU's
XBOX 360 STATS
---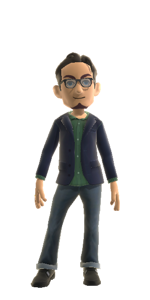 King Xanadu
15975
Pro
Online: Online
Status: Assassin's Creed IV
On Standby
Last Game: Assassin's Creed IV
Assassin's Creed IV
9 of 60 Achievements
12% GS Complete
150 of 1250
Last Played: about 5 hours ago.
---
Forza Motorsport 4
27 of 58 Achievements
35% GS Complete
435 of 1250
Last Played: Yesterday at 12:15 pm
---
Call of Duty®: Ghosts
24 of 50 Achievements
41% GS Complete
410 of 1000
Last Played: 3 days ago
---
Madden NFL 12
8 of 36 Achievements
17% GS Complete
165 of 1000
Last Played: October 17, 2013 at 10:56 pm
---
Test Drive Unlimited 2
6 of 57 Achievements
3% GS Complete
35 of 1195
Last Played: October 13, 2013 at 9:54 am
---
SSX™
2 of 50 Achievements
1% GS Complete
10 of 1000
Last Played: October 13, 2013 at 9:08 am
---
Dragon Age: Origins
23 of 76 Achievements
22% GS Complete
390 of 1750
Last Played: August 15, 2013 at 12:48 pm
---
Soulcalibur IV
10 of 50 Achievements
12% GS Complete
115 of 1000
Last Played: August 15, 2013 at 7:50 am
---
Skyrim
39 of 75 Achievements
41% GS Complete
640 of 1550
Last Played: August 12, 2013 at 12:20 pm
---
Mass Effect 2
52 of 62 Achievements
79% GS Complete
1070 of 1355
Last Played: July 30, 2013 at 5:04 pm
---
Mass Effect
17 of 49 Achievements
36% GS Complete
435 of 1200
Last Played: July 12, 2013 at 1:02 pm
---
Mass Effect 3
42 of 68 Achievements
47% GS Complete
725 of 1550
Last Played: July 2, 2013 at 6:15 pm
---
Halo 3: ODST
25 of 47 Achievements
48% GS Complete
480 of 1000
Last Played: June 22, 2013 at 11:19 am
---
Skate 3
13 of 68 Achievements
15% GS Complete
220 of 1500
Last Played: June 20, 2013 at 12:31 pm
---
Oblivion
1 of 60 Achievements
4% GS Complete
50 of 1250
Last Played: May 21, 2013 at 8:57 pm
---
Need for Speed The Run
13 of 42 Achievements
36% GS Complete
430 of 1200
Last Played: May 15, 2013 at 2:35 pm
---
COD: Black Ops II
23 of 90 Achievements
21% GS Complete
425 of 2000
Last Played: May 15, 2013 at 1:07 pm
---
Fallout: New Vegas
9 of 75 Achievements
8% GS Complete
140 of 1655
Last Played: May 12, 2013 at 1:00 pm
---
Darksiders II
0 of 50 Achievements
0% GS Complete
0 of 1000
Last Played: May 12, 2013 at 12:52 pm
---
Batman: Arkham City™
4 of 70 Achievements
2% GS Complete
35 of 1500
Last Played: May 12, 2013 at 9:42 am
---
Just Cause 2
17 of 50 Achievements
30% GS Complete
300 of 1000
Last Played: March 14, 2013 at 7:16 am
---
Assassin's Creed® III
15 of 64 Achievements
19% GS Complete
260 of 1350
Last Played: March 13, 2013 at 7:50 pm
---
Kinect Adventures
5 of 32 Achievements
9% GS Complete
85 of 1000
Last Played: December 28, 2012 at 5:37 pm
---
Halo: Reach
26 of 69 Achievements
22% GS Complete
380 of 1700
Last Played: July 23, 2012 at 8:06 pm
---
Modern Warfare® 3
20 of 76 Achievements
15% GS Complete
245 of 1610
Last Played: July 13, 2012 at 6:18 pm
---
Call of Duty Black Ops
18 of 71 Achievements
17% GS Complete
285 of 1700
Last Played: June 18, 2012 at 6:09 pm
---
TC's RainbowSix Vegas2
19 of 47 Achievements
37% GS Complete
370 of 1000
Last Played: June 4, 2012 at 7:05 pm
---
DRIVER San Francisco
5 of 50 Achievements
3% GS Complete
30 of 1000
Last Played: March 9, 2012 at 6:28 pm
---
AC Brotherhood
5 of 60 Achievements
7% GS Complete
90 of 1250
Last Played: December 31, 2011 at 7:01 pm
---
Magic: The Gathering
2 of 21 Achievements
9% GS Complete
30 of 350
Last Played: November 20, 2011 at 2:28 pm
---
Rock Band 2
24 of 50 Achievements
39% GS Complete
390 of 1000
Last Played: August 28, 2010 at 6:05 pm
---
Test Drive Unlimited
17 of 46 Achievements
29% GS Complete
290 of 1000
Last Played: April 25, 2011 at 6:21 pm
---
NFS Hot Pursuit
9 of 72 Achievements
7% GS Complete
95 of 1390
Last Played: April 9, 2011 at 12:16 pm
---
Forza Motorsport 3
31 of 50 Achievements
37% GS Complete
365 of 1000
Last Played: March 27, 2011 at 1:14 pm
---
Assassin's Creed II
30 of 50 Achievements
68% GS Complete
675 of 1000
Last Played: March 15, 2011 at 5:40 pm
---
The Orange Box
5 of 99 Achievements
3% GS Complete
25 of 1000
Last Played: March 13, 2011 at 7:55 pm
---
Condemned
4 of 50 Achievements
4% GS Complete
40 of 970
Last Played: March 9, 2011 at 12:50 pm
---
WET
5 of 43 Achievements
7% GS Complete
70 of 1000
Last Played: March 4, 2011 at 1:12 pm
---
Halo Waypoint
0 of 0 Achievements
0% GS Complete
0 of 0
Last Played: February 27, 2011 at 3:42 pm
---
Guitar Hero World Tour
14 of 50 Achievements
22% GS Complete
215 of 1000
Last Played: February 9, 2011 at 11:42 am
---
The Beatles: Rock Band
5 of 50 Achievements
5% GS Complete
50 of 1000
Last Played: February 8, 2011 at 4:11 pm
---
Midnight Club: LA
10 of 55 Achievements
10% GS Complete
130 of 1250
Last Played: January 25, 2011 at 12:37 pm
---
GH™: Warriors of Rock
3 of 50 Achievements
6% GS Complete
60 of 1000
Last Played: December 25, 2010 at 11:36 am
---
GTA IV
4 of 65 Achievements
2% GS Complete
25 of 1500
Last Played: November 12, 2010 at 5:33 pm
---
Modern Warfare® 2
24 of 50 Achievements
37% GS Complete
365 of 1000
Last Played: September 7, 2010 at 5:49 pm
---
Halo 3
48 of 79 Achievements
59% GS Complete
1040 of 1750
Last Played: August 28, 2010 at 4:53 pm
---
The Force Unleashed
23 of 59 Achievements
17% GS Complete
235 of 1345
Last Played: August 14, 2010 at 5:01 pm
---
Forza Motorsport 2
11 of 44 Achievements
11% GS Complete
105 of 1000
Last Played: June 2, 2010 at 9:45 am
---
Fable II
13 of 66 Achievements
18% GS Complete
245 of 1350
Last Played: November 8, 2009 at 10:03 am
---
Fallout 3
5 of 72 Achievements
5% GS Complete
80 of 1550
Last Played: November 7, 2009 at 9:40 am
---
TC's H.A.W.X
19 of 50 Achievements
29% GS Complete
290 of 1000
Last Played: August 18, 2009 at 7:10 am
---
DEAD RISING
2 of 50 Achievements
4% GS Complete
40 of 1000
Last Played: July 31, 2009 at 12:26 pm
---
Madden NFL 09
1 of 25 Achievements
3% GS Complete
30 of 1000
Last Played: July 14, 2009 at 1:28 pm
---
Madden NFL 08
30 of 48 Achievements
60% GS Complete
600 of 1000
Last Played: July 6, 2009 at 1:30 pm
---
NFS Undercover
4 of 50 Achievements
5% GS Complete
50 of 1000
Last Played: July 5, 2009 at 4:27 pm
---
NBA 2K8
1 of 50 Achievements
1% GS Complete
10 of 1000
Last Played: July 4, 2009 at 10:23 am
---
Guitar Hero Metallica
6 of 50 Achievements
4% GS Complete
35 of 1000
Last Played: June 4, 2009 at 1:56 pm
---
Assassin's Creed
27 of 44 Achievements
66% GS Complete
655 of 1000
Last Played: May 7, 2009 at 1:00 pm
---
Halo Wars
4 of 58 Achievements
5% GS Complete
65 of 1200
Last Played: April 22, 2009 at 5:17 pm
---
Call of Duty: WaW
9 of 66 Achievements
10% GS Complete
145 of 1500
Last Played: March 17, 2009 at 4:50 pm
---
Skate 2
9 of 60 Achievements
7% GS Complete
105 of 1500
Last Played: March 12, 2009 at 1:08 pm
---
Rock Band
14 of 50 Achievements
35% GS Complete
345 of 1000
Last Played: September 22, 2008 at 9:07 am
---
Guitar Hero II
15 of 50 Achievements
17% GS Complete
170 of 1000
Last Played: July 22, 2008 at 11:54 am
---
NINJA GAIDEN 2
4 of 70 Achievements
2% GS Complete
20 of 1250
Last Played: July 10, 2008 at 12:51 pm
---
Eragon
0 of 37 Achievements
0% GS Complete
0 of 1000
Last Played: December 31, 1752 at 4:00 pm
---
The Bourne Conspiracy
2 of 49 Achievements
3% GS Complete
30 of 1000
Last Played: June 6, 2008 at 9:28 am
---
NFS ProStreet
7 of 50 Achievements
12% GS Complete
120 of 1000
Last Played: May 22, 2008 at 4:54 pm
---
Yaris
0 of 12 Achievements
0% GS Complete
0 of 200
Last Played: May 6, 2008 at 4:35 pm
---
Call of Duty 4
15 of 37 Achievements
29% GS Complete
290 of 1000
Last Played: May 5, 2008 at 6:09 pm
---
Marvel Ult. Alliance
2 of 58 Achievements
2% GS Complete
20 of 1250
Last Played: May 2, 2008 at 7:02 pm
---
Gears of War
2 of 57 Achievements
2% GS Complete
20 of 1250
Last Played: May 2, 2008 at 6:06 pm
---