New Game Shout
Type any game
No Game Selected
Type your shout above. Afterwards, enter the game you wish to shout about to the left. By selecting a game you're more likely to get a response to what you need. You can choose not to enter a specific game if you'd like.

ex. I'm stuck in a room with a box and a gnome. How do I get out?


Send a message to
DeztiNyyyyy
DeztiNyyyyy
"am going to be at e for all october 3-5 so if u wanna see deztiny ill be there =]"
23

Years Old

Chino , CA
United States
2754 Views


http://pwned.com/PMS_tA_DeztiNy/

Date Registered: 09/14/2008
About Me: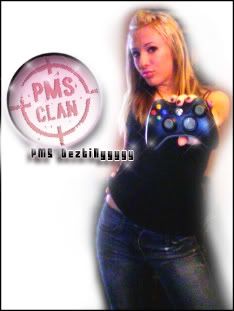 Hey wats up my names Charissa AKA Deztiny. Gamer sinse day 1. my serious games r halo 3, WoW, and Stepmania/ddr.I have a huge gaming past but sadly no one remembers me lol. I was the creator of the all girls KSI, quit right before they made GI.Also founder of the teams pRo, tK, and uF. Went to MLG for halo 1 and 2. Went semi both. I quit playing halo for almost all of 2007, but im bak for halo 3. Im in an awsome all girls clan PMS love ya ladies =] props to the guys in h2o. Im also on TeaM aRseNik. Going to MLG 09 and most likely 10 and 11 if they keep halo 3 going lol Hoping to go pro or atleast semi with arsenik. Yea and im pro at stepmania i have vids on youtube lol. i also like to photoshop. if u want to play wow im on servers darkspear, darkiron, daggerspine, and scilla. if u want my toons just ask.

i want to make a career out of gaming. its my dream to be a model for girl gamers. and i want to someday be a gaming animator and artist/designer. im also running to be girl gamer of the month on GNGMAGAZINE.COM vote for me. other than gaming i love to hang out with my friends party and all that funn stuff. and i love my bf chris aka TeRRoR [ he makes awsome sigs so if u want the best sig u ever had in ur life let me kno and ill hook it up ] rock band night ftw


CONTACTS
aim - liveefree08
email - x0x0_ishy08@yahoo.com or DeztiNy_FEMALEGAMER@live.com
skype - PMS_DeztiNy


SITES U CAN FIND ME ON
www.myspace.com/sexii_crazii
MLGpro.com&Gamebattles - l0vEstRuCk
PMSclan.com - PMS Deztinyyyyy
hoopledoople.com/PMSFr3aKLS
xanga.com/x0x0_ishy08
halokitty.1up.com
GnGmagazine.com - PMS DeztiNyyyyy
pwned.com/PMS_tA_DeztiNy
socialvibe.com - PMS_DeztiNy
gametopius - [PMS][tA]_DeztiNy
GamerVixens - PMS_DeztiNy









xbox 360:

PMS DeztiNyyyyy, tA DeztiNy





General (6)

LCS Furious Dre

Mojado

ninjamoni

[BRIT] teh only bbqq

Heavy Metal Gamer

DsoldierX